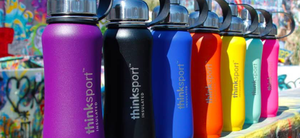 TESTING + CHEMICAL POLICY
It is important to us that through the lifecycle of a product, it does not cause harm to the user or the environment.
While several companies have begun to jump off BPA based plastics, many are pursuing new plastics and materials that have not been properly tested.
Thinkbaby and Thinksport employs the precautionary principle when choosing materials to work with. We do not utilize clear plastic windows with our products as they are typically made out of PET and PVC and create excess waste.

Below are some of the items that comprise our chemical policy:
No utilization of known carcinogenic, reproductive toxic, endocrine disrupting, neuro toxic materials
No alkylphenols, polyurethane
No petroleum distillates
No phosphates
No chlorine
No chlorinated or brominated solvents
No petroleum-derived or petrochemical fragrances
No parabens
No sulfur oxides
No organohalides

No formaldehyde
No trichloroethylene (TCE)
No perchloroethylene (Perc)
No dioxins and furans
No hexavalent chromium
No organophosphate pesticides
No polybrominated diphenyl ethers (PBDEs)
No di-(2-ethylhexyl)phthalate (DEHP)
No 2,4, dichlorophenoxyacetic acid (2,4, D)
No toxic dyes
No PVC
No PET or copolyester
No Melamine

No Bisphenol-A (BPA)
No Bisphenol- S (BPS)
No PFCs
No Formamide
No animal testing - Think's last audit by Leaping Bunny (April 2018).


We do not directly test any of our products. We do not work with ingredient supplier that test on products. We do not allow any third-parties from distributors to foreign governments test our products. We're not sure of any further way to say, we don't allow any animal testing. But if you have a question, you're welcome to email us.
All products adhere to CPSIA, EN 71 and Prop 65 standards.

We recognize natural and organic ingredients contain heavy metals. To the extent possible, Think works to find the cleanest sources for all ingredients. All products have been tested down to the ND (non detect levels) as established by regulatory standards established by all US and all foreign governments.

At Think, we go through a very rigorous process of ingredient and material selection. We don't jump to something, because it is free of a known harmful chemical. It must be well vetted before we will consider use. However, we are also not "married" to any single ingredient or material. If in the course of use, peer-reviewed science emerges of harmful effects of that material or ingredient, we will eliminate it from our use. This is our commitment to all of our Thinkers out there. We also commit to continue to evaluate consumer products currently sold to develop safer and more effective alternatives.

Please note that we ONLY follow peer-reviewed scientific studies for defining our chemical policy. We have little interest in industry funded studies or claims from random bloggers or faux agencies. If a study has not been critically examined by scientists with data made public, we 100% disregard the information. As a Thinker, you should consider this as well.
< Learning Center
Endocrine Disrupting Chemicals >