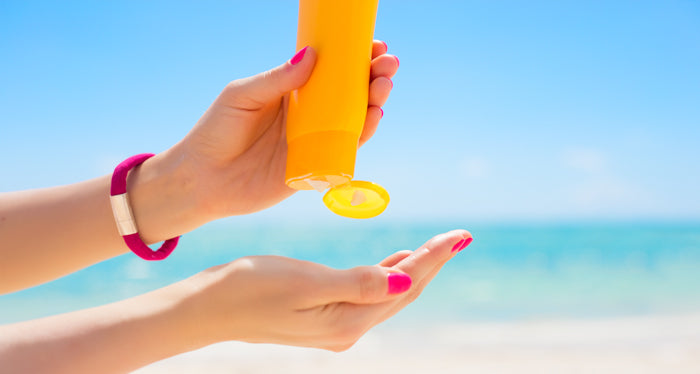 Carcinogen Benzene Found in Popular Sunscreens
Unfortunately, we can't always trust product labels. A recent study revealed that 78 different sunscreens made by popular brands unintentionally contained the carcinogen, Benzene. This finding has triggered massive recalls from major sunscreen makers including: Johnson & Johnson, Neutrogena, Aveeno and more. 
Exposure to benzene in any form is expected to cause adverse health effects, ranging from dizziness, headaches, and even death (at very high exposure levels).
Nowadays, it seems like we need to approach all our product choices with an abundance of caution. Unfortunately, many health and beauty brands have been doing too little to protect public health.
Luckily, other natural sun care products, including our own ThinkSport & ThinkBaby Sunscreen, have been produced with customer health as a #1 priority from the start. Think brand sunscreens have been thoroughly tested and reviewed by trusted 3rd parties to prevent exposure to biologically harmful chemicals, including Benzene.
Think's Testing & Chemical Policy & Valisure's Full Report: Sunscreen Containing Benzene
What is Benzene and What are the Risks?
Benzene is a chemical commonly used in different industrial processes. It is used as a starting material to produce other chemicals used to make plastics, pesticides, and more. This chemical was used even more widely in the past as industrial solvent but has since been banned after benzene was linked to cancer in humans. 
Uses of Benzene
Some industries use benzene to synthesize other chemicals used to make plastics, resins, and nylon and synthetic fibers.
Benzene is also used to make other products, like:
Lubricants

Rubbers

Dyes

Detergents

Drugs

and Pesticides
As you can see, this list contains a number of things that no one would want touching their skin on a daily basis. The fact it's been found in a daily use product like sunscreen is extremely concerning.
Risks of Benzene Exposure
Benzene causes cells not to work correctly. For example, it can cause bone marrow not to produce enough red blood cells, which can lead to anemia. Also, it can damage the immune system by changing blood levels of antibodies and causing the loss of white blood cells.

The seriousness of poisoning caused by benzene depends on the amount (ppm or parts per million) and length of time of exposure, as well as the age and pre existing medical condition of the exposed person.
To be clear, benzene isn't an ingredient intentionally included in these products; the recalled sunscreens were found to be contaminated with benzene. So you want to check Valisure's list rather than scanning your sunscreen's ingredient list to see whether "benzene" is listed.
For more info, review this guide assembled by the Center For Disease Control and Prevention CDC: Facts About Benzene
How To Make Sure Your Sunscreen Is Safe
When you want to be sure that your sun and skin care products are safe, we highly recommend checking trusted national institutes, like the FDA, EWG, and CDC.
Here are a few steps to take while searching for a benzene free sunscreen:
Benzene Free Sunscreen From Think
Since 2007 it's been our mission to focus on safe, sustainable, and functional products that users can trust. Every Think product, especially our non toxic sunscreens, are rigorously tested and vetted to prevent our customers from being exposed to biologically harmful chemicals.
Think Benzene Free Sunscreens Include:
Please note that we ONLY follow peer-reviewed scientific studies for defining our chemical policy. We have little interest in industry funded studies or claims from random bloggers or faux agencies. If a study has not been critically examined by scientists with data made public, we 100% disregard the information. As a Thinker, you should consider this as well.
Conclusion
We hope that this guide has been helpful and provided you with safer solutions to keep you and your family safe. It's scary to learn something so seemingly harmless as sunscreen can contain dangerous chemicals like Benzene without users knowing. The good news is that people have been alerted of the concern and safe sunscreens like Think are available.
Related Articles:
---