Dr. Marisa Garshick, MD, FAAD
Dr. Marisa Garshick | MD, FAAD

Marisa Garshick, MD, FAAD is a board-certified dermatologist in New York City and a Clinical Assistant Professor of Dermatology at New York Presbyterian-Weill Cornell Medicine. Dr. Garshick sees patients of all ages, focusing on medical and cosmetic dermatology. She has a passion for being able to improve patient's quality of life and loves to help her patients look and feel like the best version of themselves.
Dr. Garshick received her Bachelor's of Science from Emory University. She then went to Tufts University School of Medicine, where she graduated with Research Honors and was elected to the Alpha Omega Alpha Honor Society. She was selected to the prestigious Doris Duke Research Fellowship program which she completed at Harvard Medical School in the Department of Dermatology at Massachusetts General Hospital. She completed her internship at Memorial Sloan Kettering Cancer Center and her dermatology residency at New York Presbyterian-Weill Cornell Medicine, where she served as Chief Resident during her final year.
Dr. Garshick has numerous publications in scientific journals and book chapters and has presented at national meetings. Additionally, she has previously worked for the Dr. Oz Show and has been featured in Travel and Leisure, Huffington Post, Women's Health, Allure, Elle, The Knot, Prevention, Harper's Bazaar, Shape, Refinery 29, Popsugar, New York Magazine, Business Insider, Health Magazine, Martha Stewart Living, Cosmopolitan and more. She has been selected to the New York SuperDoctors Rising Stars in 2017, 2018 and 2019 and to New York SuperDoctors in 2021 and 2022.
In her spare time, she loves to spend time with her 3 children and husband, who she met while in medical school.
---
---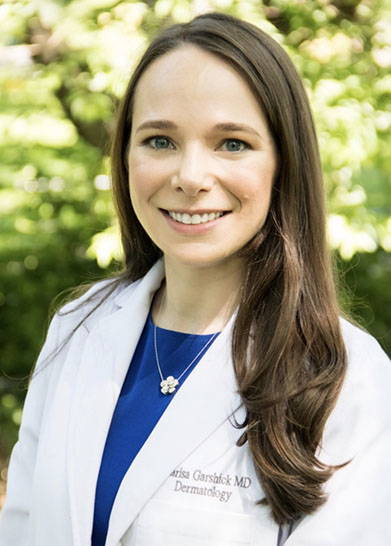 What Do You Love About Think?
"The Think brand makes it easy for consumers as there are products available for every age and concern, and you know that no matter what your need is, the product will be both safe and functional.

I know that I can trust the products from Think which is why I use them personally, for my own family, as well as recommend them to my patients. The Think products are not just safe and effective, but also feel good and are easy to apply which is so important when it comes to caring for your skin."
---
Dermatologist Recommended Think Baby & Kids Suncare by Dr. Garshick
Thinkbaby Sunscreen Stick

Thinksport Kids Sunscreen Spray

Shampoo & Wash Chlorine Remover