 What is Clear Zinc Oxide Sunscreen?
Many mineral sunscreens can leave an white or gray-ish residue on the skin. Experience new Clear Zinc Oxide enriched sunscreens that leave little to no whitening and are free from harmful chemicals! New Clear Zinc Sunscreen Reviews
Perfect Sunscreen for Baby and Kids

"I am very picky when it comes to care for my children and want to use the best products I can find and this one more than meets my standards! The product goes on really nice and doesn't leave behind an oily feel at all. I love that it's organic and mineral based plus pediatrician and dermatologist tested, it's the real deal! I will continue to buy this over and over for my kids!"
By Crystal
I will never be without this sunscreen!

"I am SO careful in the sun, but I wasn't always this way. I have had 5 moles removed and see my dermatologist twice a year. [...] I have followed his advice for years, using zinc sunscreens that were hard to blend and left a white cast on my face. UNTIL NOW! I will tell everyone about this sunscreen because it is 20% zinc, goes on clear, and feels like a lotion. I use it on myself, my toddler, and my baby with no complaints. I love that I can trust Think's commitment to clean, EWG-verified ingredients and feel safe using it even while pregnant and nursing. I will repurchase again and again!"
By Caroline
Our new favorite sunscreen!

"This sunscreen is not only amazing because there are no harmful ingredients but it applies so easily and smoothly. I hate that sunscreen leaves thick white coat on my daughter's skin and this is the first I have found that is actually clear and doesn't leave thick residue behind! " 
By Caitlyn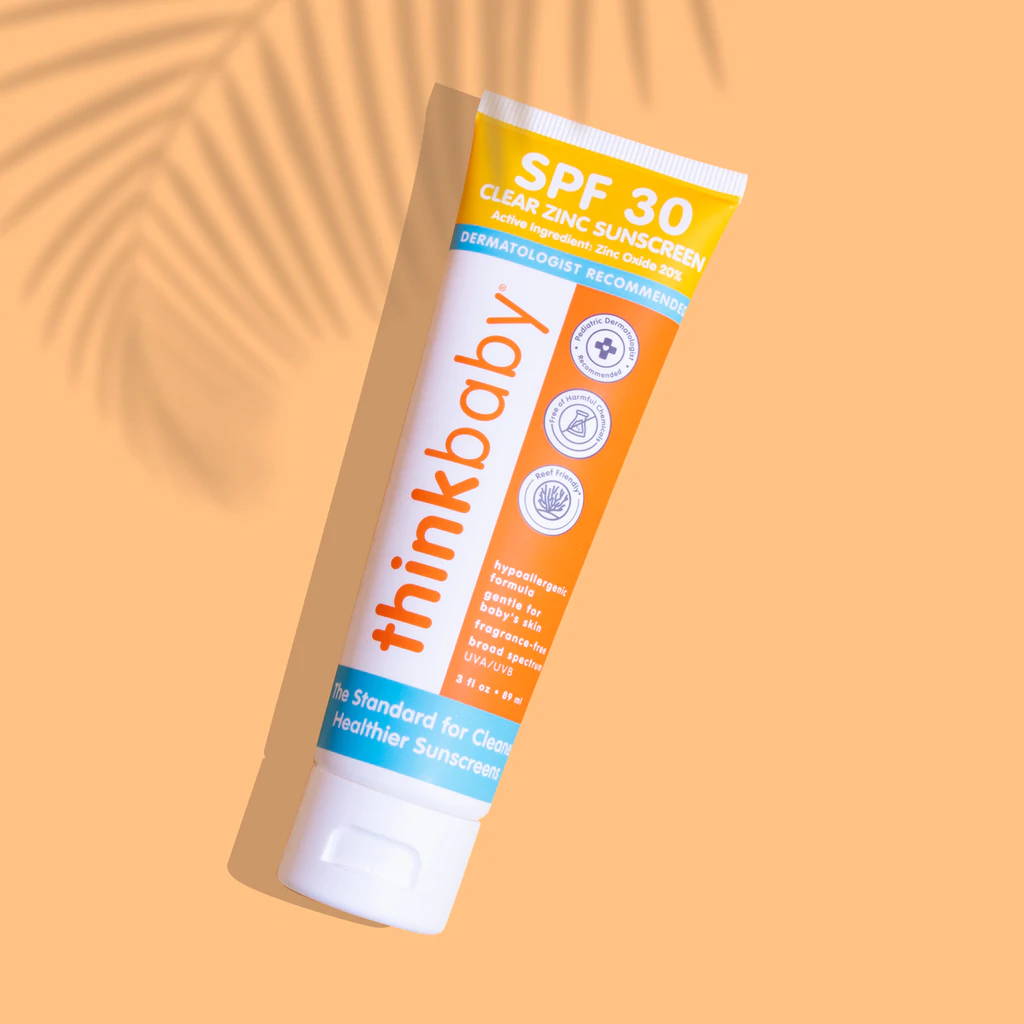 New Technology
In the past, there were few options for Clear Zinc Oxide enriched sunscreens that left little to no whitening and were free from harmful chemicals. Now, Clear Zinc Oxide enriched sunscreens have many skin benefits and can be highly effective in protecting the skin from harmful UVA and UVB rays.
Zinc oxide is a mineral traditionally used in sunscreen products known to effectively protect the skin from the sun's harmful rays. Zinc oxide has been known to have an ability to help calm, soothe, and moisturize the skin.
Clear zinc oxide is made of micron-sized zinc oxide and is less whitening on the skin due to it not reflecting as much light as the typical non-nano zinc oxide particles.
Part of the clear zinc oxide is enriched with larger particles which makes it as efficacious as regular non-nano zinc oxide making it safe to use on the skin and non-harmful to the ecosystem.