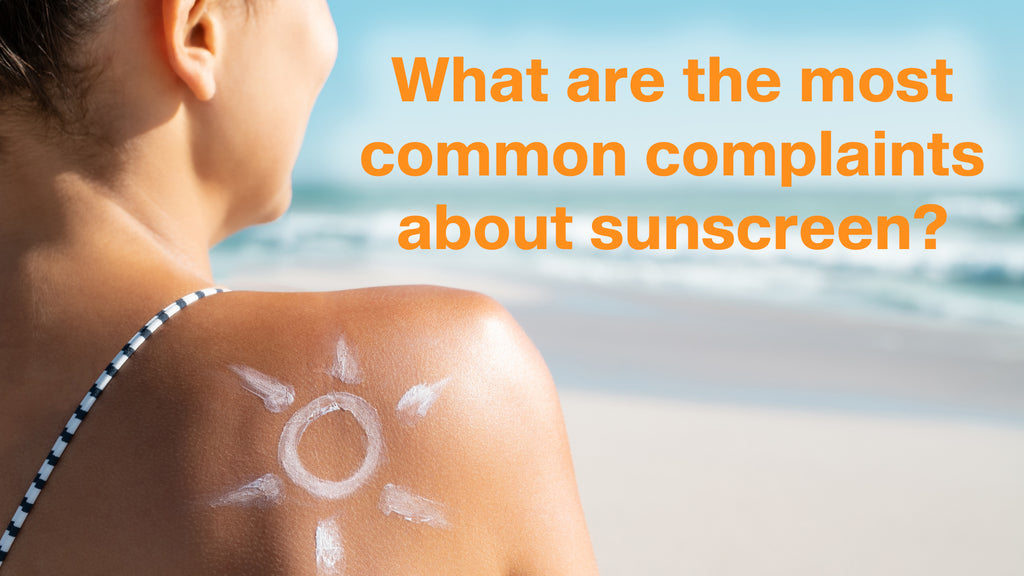 Top 5 Sunscreen Complaints Solved
Here at Think, we spend the better part of our days talking about sunscreen and how we can make it easier on families to commit to wearing sunscreen daily. Sun care is so important to us!
We have seen firsthand how much damage overexposure to the sun can cause in the lives of people we love. Harsh UVB rays make for the most uncomfortable night sleep of sunburned skin, can contribute to premature skin aging and even cause cancer.
We have heard a million and one excuses of why people avoid sunscreen and we are here to solve the Top 5 Sunscreen Complaints (in no particular order!)
Top 5 Sunscreen Complaints:
    Complaint # 1  - Sunscreen Leaves Me White and Pasty
    Complaint # 2  - Most Sunscreens Irritate my Sensitive Skin 
    Complaint # 3  - Sunscreen is Inconvenient to Carry
    Complaint # 4  - Sunscreen is so Sticky & Messy
    Complaint # 5  - The smell of sunscreen is just too much for me! 

Top Sunscreen Complaints Solved
1) Sunscreen Leaves me White and Pasty
We have all had that moment where we look in the mirror after applying sunscreen and find ourselves looking ghostly pale. This is one of the bigger customer complaints the natural sunscreen industry has heard for years. The challenge of providing sun protection from ultraviolet radiation (uvb / uva rays) is tough without traditional sunscreen ingredients. 
The problem is, chemical sunscreens contain a number potentially dangerous
or irritating ingredients. So while they can protect your skin from sun damage, they can also expose your skin to another enemy: biologically harmful chemicals. 
This is why health conscious individuals make the switch to mineral based sunscreens. Mineral sunscreen has been found by the EWG to be a safer sunscreen alternative.  
But many natural and mineral sunscreens have one common downside: chalky, pasty white residue. Credit to these brands for trying to make a safer option, but this has prevented users from fully transitioning to a safer natural option.
This is where Think Everyday Face Sunscreen (SPF 30) really shines. Our 20% zinc-oxide based sunscreen provides users with effective UV protection without the pasty white results. Application is easy and the lightweight texture helps glide onto the skin with ease. The tinted formula blends seamlessly into all skin tones.
2) Most Sunscreens Irritate my Sensitive Skin 
Another common sunscreen complaint is irritation to sensitive skin. Many people with sensitive skin know this pain all too well. Skin irritation is uncomfortable and distracting from daily life. In traditional SPF, there are common ingredients used that are known for causing irritation to the skin. The American Academy of Dermatology suggests applying moisturizer before SPF to help prevent irritation. But that won't help if the sunscreen ingredients themselves are the problem.
Harmful ingredients such as oxybenzone, also known as benzophenone-3, is the most widely used UVA blocking agent in the sunscreen industry is the most common cause of sunscreen-induced skin irritation. 
Here are a few more common chemicals found in sunscreen that you want to avoid! 
Benzophenones

Cinnamates

Dibenzoylmethanes
Many of the largest and most popular sunscreen makers continue to use these ingredients, even today where we have the science to explain the correlation between skin concerns and harmful ingredients. 
ThinkBaby Sunscreen Works for Kids & Adults With Sensitive Skin
We've found that customers of all ages have had success using ThinkBaby Safe Sunscreen. The natural, non-toxic formulation is gentle and effective in supporting sensitive baby skin and is a great solution for all ages. Plus, it is naturally scented with citrus essential oils and smells delicious! 
3) Sunscreen is Inconvenient to Carry  
We understand sunscreen is sometimes inconvenient to carry, we also want to remind you that sun burns are also inconvenient! You can try your luck and wear protective clothing but it's not a realistic solution for preventing sun damage. We have heard this complaint and have a solution for our on-the-go customers! 
First, apply before you leave. The more you mix SPF into your normal daily routine, the more natural applying SPF becomes. 
Next, ThinkSport and ThinkBaby offer 3 oz bottles of all our top sunscreen options. These 3oz options are TSA compliant and small enough to carry while traveling anywhere. 
And lastly, the holy grail of SPF reapplication and truly your on the go BFF, our ThinkSport Sunscreen Stick. These tiny but powerful sunscreen sticks provide all the protection you need and you can stash them in small places for on the go use. We highly suggest the glove box of your car, inside your purse pocket and for our little Think Family members, it is a diaper bag staple item. 
4) Sunscreen is so Sticky & Messy 
Protecting your skin is a critical step for anyone headed out into the sun. Wearing sunscreen isn't so appealing when it leaves you sticky & messy. This is doubly true for outdoor athletes who want to avoid the discomfort while working and playing outdoors. 
Spray sunscreens are known for being easier to use, but also too environmentally unfriendly. 
ThinkSport Sunscreen offers an eco-friendly, broad spectrum protection without the mess. This broad spectrum, water resistant formula absorbs quickly and prevents sun damage without biologically harmful chemicals.
5) The smell of sunscreen is just too much for me! 
We hear you! Not to mention, fragrance can often be a harmful chemical or skin irritant. If you are looking for a gentle and fresh scent, we would love to share with you our NEW Think Sun Care Aloe and Tea Leaves SPF 30. Lightly scented with essential oils and feels cool and refreshing on the skin, this new item is an everyday essential for picky sunscreen wearers everywhere! 
---